Ferritic Stainless Steel 405 Plate ( S40500)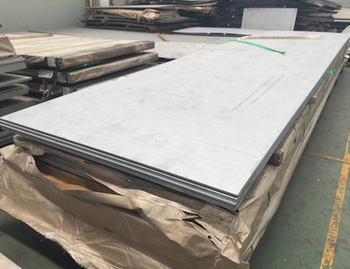 Ferritic Stainless Steel 405 Plate ( S40500)
Price And Quantity
Product Specifications
Steel Products

Alloy Steel
Steel Plates

4-150 Millimeter (mm)
Product Description
Ferritic Stainless Steel 405 Plate ( S40500)
FERRITIC STAINLESS STEEL
Ferritic stainless steels are plain chromium stainless steels with a chromium content varying between 10.5 and 18% and a low carbon content. Ferritic stainless steel are magnetic and cannot be hardened by heat treatment and are always used in the annealed condition. Ferritic, or nonhardenable stainless steels, are classified in the 400 series and are normally specified due to superior corrosion resistance and resistance to scaling at elevated temperatures. With inherent strength greater than carbon steels, ferritic provide an advantage in many applications where thinner materials and reduced weight are necessary, such as automotive emission control systems. They are nonhardenable by heat treating and are always magnetic. Commercially available AISI grades are Type 409, Aluminized 409, 410S, 430, 434, 436, 439, Aluminized 439 and 444.
Ferritic stainless steel consists of iron-chromium alloys with body-centered cubic crystal structures. They can have good ductility and formability, but high-temperature strengths are relatively poor when compared to austenitic grades. They are also not susceptible to stress corrosion cracking. Weldability is acceptable in thin sections but decreases as section thicknesses increase.
Some ferritic stainlesses (such as types 409 and 405) used, for example, in mufflers, exhaust systems, kitchen counters and sinks, cost less than other stainless steels. Other more highly alloyed steels low in C and N (such as types 444 and 261) are more costly, but are highly resistant to chlorides. Ferritic stainless steel include grades like 430 and contain only chromium as a major alloying element. They are known for their moderate corrosion resistance and poor fabrication properties. Fabrication properties can be improved by alloy modifications and are satisfactory in grades such as 434 and 444.
Ferritic Stainless Applications
Ferritic stainless steel are typically used in:
Automotive exhausts systems
Fuel lines
Cooking utensils
Appliances
Furnaces
Architectural trim
Domestic appliances
Petrochemical
Heat exchangers
FERRITIC STAINLESS STEELS

TYPE

Equivalent UNS

405

S40500

409

S40900

429

S42900

430

S43000

430F

S43020

430FSe

S43023

434

S43400

436

S43600

442

S44200

446

S44600
Types of Ferritic Stainless Steel
Group 1 (type 409/410L): These have the lowest chromium content of all stainless steels and are ideal for slightly corrosive environments where localized rust is acceptable. The least expensive of all stainless steels, type 409 was initially created for automotive exhaust systems silencers, but can now be found in automotive exhaust tubing and catalytic converter casings. Type 410L is often used for containers, buses and LCD monitor frames.
Group 2 (type 430): The most commonly used ferritic steel, type 430 has a higher chromium content and is, consequently, more resistant to corrosion by nitric acids, sulfur gasses and many organic and food acids. In some applications, this grade can be used as a replacement for austenitic grade 304. Type 430 is often found in interior appliances, including washing machine drums, kitchen sinks, cutlery, indoor panels, dishwashers and other cooking utensils.
Group 3 (type 430Ti, 439 and 441): Having better weldability and formability characteristics than Group 2 ferritic sheets of steel, Group 3 steel can be used to replace austenitic type 304 austenitic in a wider range of applications, including in sinks, exchange tubes, exhaust systems and welded parts of washing machines.
Group 4 (type 434, 436, 444): With a higher molybdenum content, these ferritic stainless steel grades have enhanced corrosion resistance and are used in hot water tanks, solar water heaters, exhaust system parts, electric kettles, microwave oven elements, as well as the automotive trip. Grade 444, in particular, has a pitting resistance equivalent (PRE) to Grade 316, allowing it to be used in more corrosive outdoor environments
Group 5 (446, 445, 447): This group of specialty stainless steels is characterized by a relatively high chromium content. The result is steel with excellent corrosion and scaling (or oxidation) resistance. In fact, the corrosion resistance of Grade 447 is equivalent to that of titanium metal. Molybdenum is also commonly added to improve corrosion resistance. Applications for Group 5 steel are found in highly corrosive coastal and offshore environments.
Chemical composition and equivalent grades of ferritic stainless steel:
| | | | | | | | | | | |
| --- | --- | --- | --- | --- | --- | --- | --- | --- | --- | --- |
| Outokumpu | EN | ASTM | UNS | GRADE | C | N | Cr | Ni | Mo | OTHERS |
| MODA410S/ 4000 | 1.4000 | TYPE 410S | S41008 | F | 0.03 | | 12.5 | | | |
| MODA410L/ 4003 | 1.4003 | | S40977 | F | 0.02 | | 11.5 | 0.5 | | |
| MODA430/ 4016 | 1.4016 | TYPE 430 | S43000 | F | 0.05 | | 16.2 | | | |
| MODA439/ 4510 | 1.4510 | TYPE 439 | S43035 | F | 0.02 | | 17.0 | | | Ti |
| MODA 4511 | 1.4511 | | | F | 0.02 | | 16.2 | | | Nb |
| MODA409/ 4512 | 1.4512 | TYPE 409 | S40900 | F | 0.02 | | 11.5 | 0.2 | | Ti |
| MODA430Ti/ 4520 | 1.4520 | | | F | 0.02 | | 16.2 | | | Ti |
| MODA 4589 | 1.4589 | | | F | 0.05 | | 14.0 | 1.7 | 0.3 | Ti |
| CORE 434/ 4113 | 1.4113 | 434 | S43400 | F | 0.05 | | 16.5 | | 1.0 | |
| CORE 439M | | | | F | 0.02 | | 17.6 | | | Nb Ti |
| CORE 441/ 4509 | 1.4509 | | S43940 | F | 0.02 | | 17.6 | | | Nb Ti |
| CORE 436/ 4513 | 1.4513 | | | F | 0.02 | | 17.0 | | 1.0 | Ti |
| CORE445TiNb/ 4607 | 1.4607 | | | F | | | 19.1 | | | Ti |
| CORE 4622 | 1.4622 | | S44330 | F | 0.02 | 0.02 | 21 | | | Cu: 0.4 Nb Ti |
| FORTA 430/ 4016 | 1.4016 | TYPE 430 | S43000 | F | 0.05 | | 16.2 | | | |
| THERMA 4724 | 1.4724 | | | F | 0.07 | | 12.5 | | | Al: 0.9 Si: 1.0 |
| THERMA 4742 | 1.4742 | | | F | 0.07 | | 17.5 | | | Al:1.0 Si: 1.0 |
Trade Information
Sample costs shipping and taxes has to be paid by the buyer

Western Europe Asia Australia Eastern Europe Middle East Central America Africa South America North America